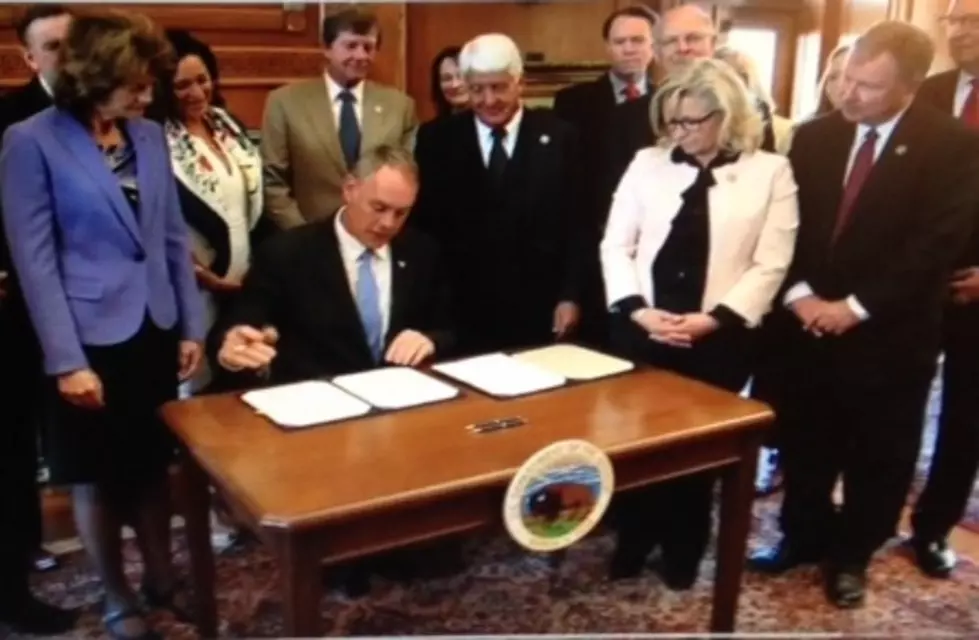 Interior Secretary Ryan Zinke Reviewing 24 National Monuments, One of Which is in Montana
Ryan Zinke Signs Orders
Former Montana Congressman Ryan Zinke's new job as the Interior Secretary of the United States placed him front-and-center this week as his agency is tasked to enact President Donald Trump's most recent Executive Order. Zinke will be working over the next four months to review some of the nation's "National Monuments" Zinke clarifies which ones are being considered.
"The monument designation period stretches from 1 January 1996 under which the act -- and it has to include acts and monuments that are 100,000 acres or more -- so the beginning date is January 1st, 1996, and the other condition is they have to be a total of 100,000 acres or more. That should include about 24 to 40 monuments...For the record, in the last 20 years, in particular, that would cover about, oh, tens of millions of acres."
National Monuments can be declared by presidents and do not have oversight by the legislature. Zinke says this may have led to negative impacts on those living near such monuments.
"There's no requirement for public input before the designation of a monument and there's no NEPA requirement," Zinke said. "Normally, when you do a land use project, we normally NEPA.  The Antiquities Act is the exception.  Again, we don't have to go through legislative process; the President determines it, and it does not have to go through NEPA. In this case, the administration, as you all know, has heard from members of Congress and states and, in some cases, the designation of the monuments may have resulted in loss of jobs, reduced wages and reduced public access.  And in the case of sign public land use, we feel that the public, the people that the monuments affect, should be considered.  And that's why the President is asking for a review of the monuments designated in the last 20 years to see what changes, if any, improvements can be made, and give states and local communities a meaningful voice in the process."
Nearly all of the monuments being investigated are in the Western United States, but only one is in Montana: namely, the Upper Missouri River Breaks National Monument which was created by Bill Clinton in 2001.