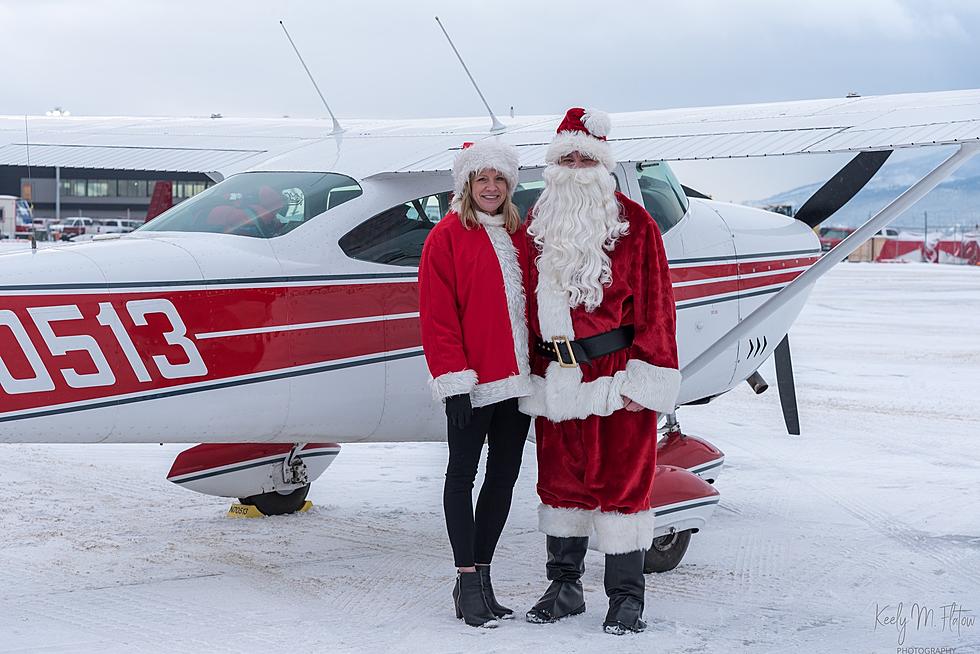 Missoula Photographer Captures Annual 'Red Sleighs over Montana'
Photo courtesy of Keely Flatow
Retired U.S. Air Force Major Keely Flatow, now sharing her twin avocations of aircraft and photography at the Museum of Mountain Flying, captured several images in late December of those involved in 'Red Sleighs over Montana'.
"I was just taking photos for the Museum of Mountain Flying's second annual Red Sleighs over Montana event and this is the second year that we collected donations, whether it was monetary or toys or clothing for children around Western Montana and also parts of Idaho," said Major Flatow.
She said the pilots and their families enjoyed giving back by sharing the gifts of toys and clothing by delivering them using their own personal aircraft.
"We have pilots who volunteer their time and their aircraft to dress up as Santa and deliver the toys and donations all over the state and of course to Idaho this year," she said. "So I went out there to just take some photos of the event. We had, I think around 10 to 12 different aircraft. I think it was three different helicopters, and then some fixed wing aircraft in one jet which was amazing."
Flatow provided the timeline for Red Sleighs over Montana.
"It was before Christmas and I think they started getting the word out there in November," she said. "Last year it was a little closer to Christmas, but this year we started a little bit earlier. We got the word out and the community was so generous again in donating time, money, and toys and things like that."
Flatow said the gifts were flown to numerous communities in Montana and Idaho.
"There was a list of close to 20 different cities on the Museum of Mountain Flying's Facebook page and the Miss Montana to Normandy Facebook page. They went to a lot of cities in western Montana including Drummond, Phillipsburg and Darby. Some of the towns had to be removed at the last minute because the weather was not cooperating but they had a really long list of places, from Anaconda to Arlee."
According to the Museum of Mountain Flying's Facebook page, the flying Santas delivered gifts to Anaconda, Big Sandy, Butte, Cut Bank, Darby, Deer Lodge, Denton, Drummond, Eureka, Havre, Hot Springs, Libby, Lincoln, Phillipsburg, Plains, Potomac, Seeley Lake, Shelby, Sunset School, Superior, Stevensville, Thompson Falls, White Sulfur Springs, and to Sandpoint, Idaho.
30 famous people you might not know were college athletes
Stacker
dug deep to find 30 celebrities who were previously college athletes. There are musicians, politicians, actors, writers, and reality TV stars. For some, an athletic career was a real, promising possibility that ultimately faded away due to injury or an alternate calling. Others scrapped their way onto a team and simply played for fun and the love of the sport. Read on to find out if your favorite actor, singer, or politician once sported a university jersey.
RANKED: Here Are the 63 Smartest Dog Breeds
Does your loyal pup's breed make the list? Read on to see if you'll be bragging to the neighbors about your dog's intellectual prowess the next time you take your fur baby out for a walk. Don't worry: Even if your dog's breed doesn't land on the list, that doesn't mean he's not a good boy--some traits simply can't be measured.
LOOK: Here are the pets banned in each state
Because the regulation of exotic animals is left to states, some organizations, including The Humane Society of the United States, advocate for federal, standardized legislation that would ban owning large cats, bears, primates, and large poisonous snakes as pets.
Read on to see which pets are banned in your home state, as well as across the nation.