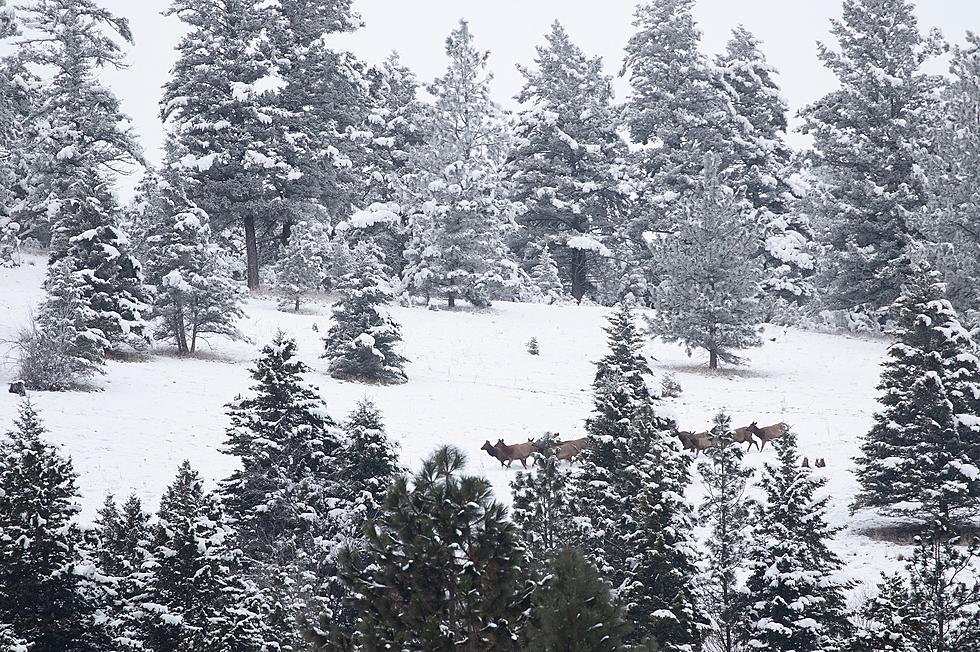 Mount Jumbo Remains Closed – 'Elk Spotters' Report Daily Numbers
photo by Paul Queneau
Missoula Parks and Recreation keeps a close eye on the elk population that winters on Mount Jumbo, and revises the opening date for trails in the area for their safety.
KGVO News spoke to Jeff Gicklhorn, Conservation Land Program Manager for the City of Missoula.
Gikklhorn explained the process taken each spring to reopen Mount Jumbo to humans and dogs.
"Back in 1999, the city designated March 15th as an opening date for the South Zone of Mount Jumbo," began Gicklhorn. "However, they also realize that depending on the year, both the weather conditions and the elk presence, that date may need to be delayed. And so every year we are tracking where the elk are and where they're moving to, and discussing with Montana Fish, Wildlife and Parks about an appropriate opening date and at this time we're pushing back making a decision for at least one week from today."
Gicklhorn said keeping the mountain closed helps keep the elk population healthy.
"The advantage of having the mountain closed is that the elk have the mountain to themselves in the winter," he said. "Domestic dogs are very similar in elk eyes to wolves that naturally occur in their landscape, and there's a risk that elk will expend more energy than they need to if humans or dogs come into close proximity. By the spring, the elk have used all of their fat reserves because of the cold winter and their forage further up into the mountains has not started growing yet."
Gicklhorn also provided a brief wildlife biology lesson.
"Elk actually calve a little bit later in the year, so in late May into early June. But certainly our citizen 'elk spotters' would be able to give us insights on whether or not there are pregnant females up there and that is certainly important. And as I mentioned, we want to make sure that those pregnant females have all of the resources that they need to be able to calve properly."
Gicklhorn said 'citizen elk spotters' live adjacent to Mount Jumbo and communicate daily with the Parks Department.
"What we ask citizens that participate in the program is that they report once per day if they see elk above their homes," he said. "So every one of our spotters lives around Mount Jumbo both on the east and west sides, because you obviously can't see the entire mountain at one time. However, when we collect data from all of our spotters, we can actually get a great view of the entire mountain on a daily basis."
Those interested in becoming a 'citizen elk spotter' can call Gicklhorn at 552-6691.
LOOK: Food history from the year you were born
From product innovations to major recalls,
Stacker
researched what happened in food history every year since 1921, according to news and government sources.
LOOK: Things from the year you were born that don't exist anymore
The iconic (and at times silly) toys, technologies, and electronics have been usurped since their grand entrance, either by advances in technology or breakthroughs in common sense.
See how many things on this list
trigger childhood memories—and which ones were here and gone so fast you missed them entirely.
LOOK: Here Are 30 Foods That Are Poisonous to Dogs
To prepare yourself for a potential incident, always keep your vet's phone number handy, along with an after-hours clinic you can call in an emergency. The ASPCA Animal Poison Control Center also has a hotline you can call at (888) 426-4435 for advice.
Even with all of these resources, however, the best cure for food poisoning is preventing it in the first place. To give you an idea of what human foods can be dangerous, Stacker has put together a slideshow of 30 common foods to avoid. Take a look to see if there are any that surprise you.