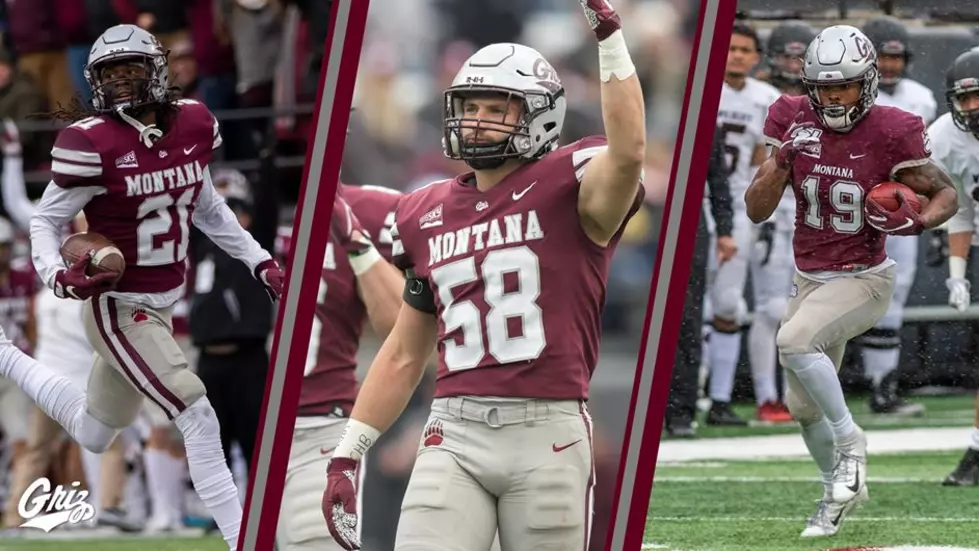 Preseason All-America Honors for Three Montana Grizzly Stars
Image courtesy of U of Montana Athletics
This won't be the only time you will see these names on lists of first-team preseason honorees.
With just over 80 days remaining until kickoff for the University of Montana Grizzly football team, Athlon Sports has cut the ribbon on the outlook for individual performances. You might say the Griz are being held in high regard.
UM Sports Information Director Eric Taber informed us today (Monday) that three Montana Grizzlies have received Athlon's preseason Football Championship Subdivision (FCS) All-Amercia Team recognition. The total for the rest of Big Sky Conference players named to this team? Two.
Eric tells us that linebacker Patrick O'Connell, cornerback Justin Ford and return man Malik Flowers are Montana's preseason All-Americans. The Griz are one of only three teams with three players chosen, North Dakota State and South Dakota State being the other two.
O'Connell, who led the Big Sky in sacks in 2021, and Ford, who led all divisions in interceptions last year, finished third and fourth in the balloting for the 2021 Buck Buchanan Award, given to the top defensive player in FCS. Flowers is now Montana's all-time leader in kick returns for touchdowns, as well as being the current holder of the highest average yards per return in school history.
Undoubtedly, those kinds of numbers will get you noticed. The Athlon All-America team is the first of several 2022 preseason teams that will be announced this summer. The other members of the Big Sky Conference to make the preseason team were running back Isaiah Ifanse, Montana State and defensive back Anthony Adams, Portland State.
LOOK: The story behind every NFL team name
Stacker
delved into the story behind every NFL football team name. Overall team records, also included, are reflective of NFL regular-season games. There are some football teams with well-known nicknames—the Jets, for instance, are often referred to as Gang Green—but we also divulge how some teams' official names are sparingly used (the Jets' neighbors, the Giants, are actually known as the New York Football Giants). Sometimes a team name can tell you a lot about local history: The Vikings of Minnesota draw upon the area's strong ties to Scandinavia, and the Tampa Bay Buccaneers are dripping in local legend related to Florida's pirate past.
Let's kick off the countdown with the folks who earned their nickname by buying boxes of used team jerseys.
WOW! Photos from the Newly Opened Missoula Airport
The wait is over and the new terminal at the Missoula Montana Airport opened June 8, 2022. Get a peek inside from the perspective of a passenger.