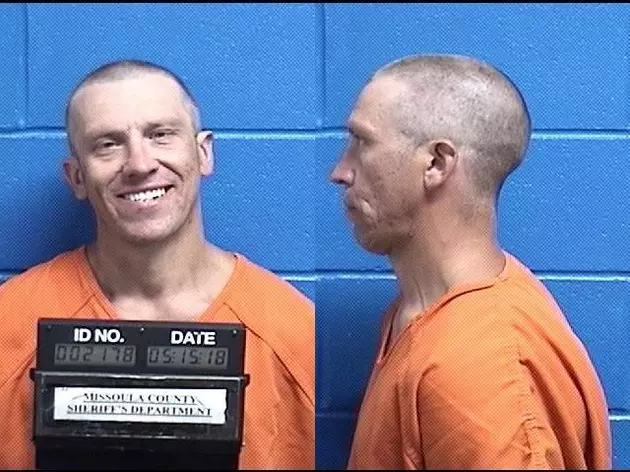 Violent Offender Caught Sleeping on Casino Machine, Jumps on Meth Pipe in Front of Police
Photo Courtesy of Missoula Jail
A man caught sleeping in a Missoula business ended up facing three felony charges and a host of misdemeanors after police showed up on the scene early Tuesday morning, May 15. Police Public Information Officer Travis Welsh explains.
"Just after six a.m., officers responded to a 911 call requesting that a person be removed from a casino in the 3300 block of North Reserve street," Welsh said. "Employees pointed out an individual who was sleeping at one of the machines, so officers awakened the male and accompanied the man outside."
While walking the man outside, officers noticed what appeared to be a glass meth pipe in the man's pocket.
"The officers asked the male about the pipe, and he turned away from them, threw the device on the ground and promptly stomped on it, smashing it. He was found to be in possession of other drug paraphernalia as well as a small amount of a white crystal-substance later determined to be methamphetamine. They did collect shards of the glass from the pipe and tested the insides of it, which came back positive for methamphetamine."
While on the way to the jail, the man gave officers a fictitious name, but police later identified him as 35-year old Joseph Page, an unregistered violent offender. Page now faces a felony charge for failing to register, another for meth possession, and yet another for evidence tampering after smashing the meth pipe. He faces a misdemeanor for identity theft after trying to use someone else's name, as well as misdemeanors for trespassing, obstruction, and drug paraphernalia.