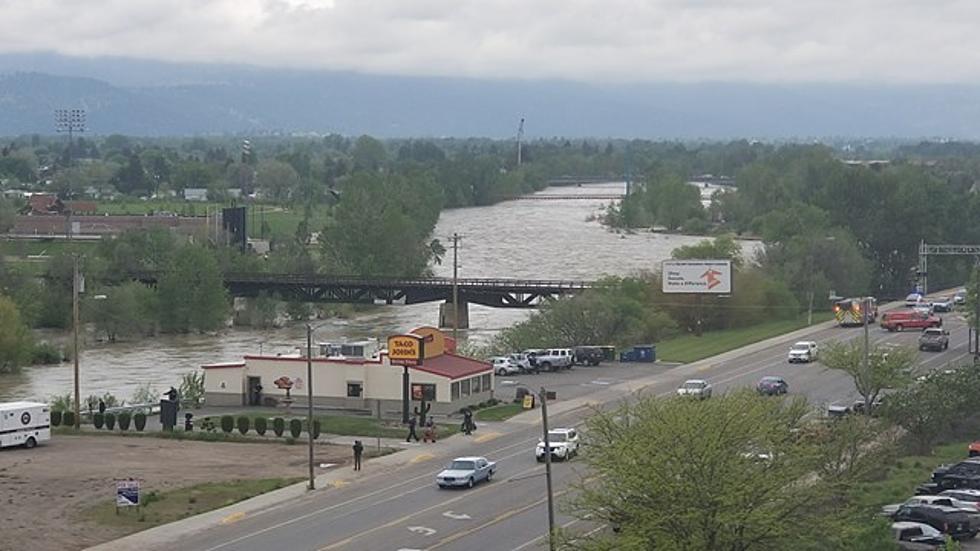 Man Who Jumped Off Orange Street Bridge Into Clark Fork River is Recovering, Apparently Uninjured
Photo Courtesy of Savannah Jenkins
The Missoula City Fire Department was called out to perform a river rescue after eyewitness called 911 reporting that they had seen a man jump into swollen Clark Fork River just after 11:35 in the morning.
"There were multiple witnesses who observed a man jump from the Orange Street Bridge into the Clark Fork River, so we dispatched our standard river rescue response," said Battalion Chief Tony Cate. "We altered it a little bit, from what we normally would send, we actually sent more resources because we had more available today. We heard that he was moving downriver from the bridge and while we were on route we got an update that he may be in the river behind Taco Johns."
An engine, an ambulance and some police vehicles were parked outside of Taco Johns in a matter of moments.
"They were able to locate the male," Cate said. "He was on the river's edge, kind-of in the brush along the bank there, but still in the water. He was conscious and alert and didn't appear to have any other life-threatening injuries at that time, other than being extremely cold. He was probably hypothermic, but he was able to walk up the bank with assistance to the ambulance that was waiting."
Cate says the man could not explain why he jumped off the bridge and is being treated at St. Patrick Hospital, but appears uninjured. According to Missoula Fire Department Records Specialist Sarah Kennett, the call was completed by 11:52, which means the swift water rescue was indeed swift, only taking about fifteen minutes.