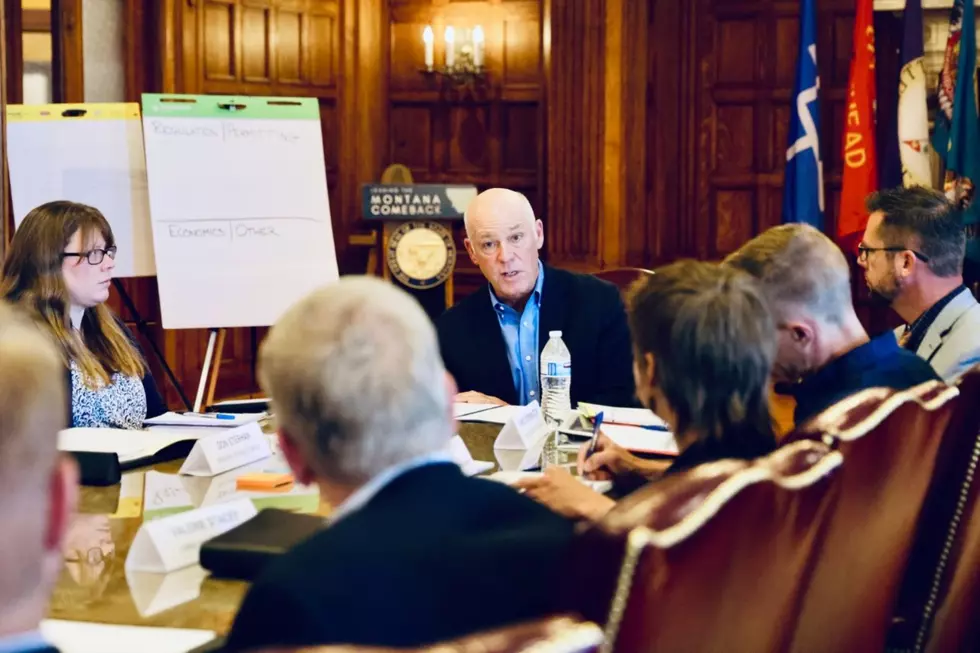 Montana Governor Meets With Newly Created Housing Task Force
Credit: Jack O'Brien
A large group of individuals from different agencies, businesses, and backgrounds all met with Governor Greg Gianforte on Wednesday in the Capitol building's main conference room in Helena to discuss the issue of housing in Montana.
Gianforte provided some sobering statistics about the housing situation, not just in Montana, but throughout the country.
"With the supply chain breakdowns, rising prices, and increased consumer demand, the cost of building a new home soared by more than 18 percent between March 2021 and March 2022," said Gianforte. "And just this week, the National Association of Homebuilders reported that builder confidence fell for the seventh consecutive month. Builder confidence in July fell at its second fastest rate since they've been keeping this measure."
State Senator Greg Hertz, whose son Adam Hertz of Missoula is also on the task force, reminded the group of many types of affordable housing that are no longer encouraged or even allowed in Montana.
"We need to build, and we need to figure out what's slowing that down," said Senator Hertz. "Is it because of some zoning regulations? Are there other regulations when it comes to subdivision reviews or better things that a DEQ (Department of Environmental Quality) or DNRC (Department of Natural Resources and Conservation) can do to get us there? And particularly, why have some of these affordable housing types disappeared? Whether it's duplexes, triplexes, mobile homes, or mobile home parks, I think we need to particularly focus on those types of affordable housing for folks and looking forward to working with everybody on these issues."
Scott Osterman, Director of the Montana Department of Commerce revealed a statistic that Montana is thousands of homes short of what is needed.
"We know that in the affordable housing standpoint we're maybe about 18,000 homes short in Montana, and as far as the workforce housing is concerned, that's a much larger number. But in order for businesses to grow, they need stable environments for their people to live in. And so correspondingly, we will try to bring that perspective. We will also try to understand what we can do to help anyone around this table be successful as well through the policies and in the opportunities that we (the Department of Commerce) have."
Another member of the task force is very familiar to KGVO listeners. Patrick Barkey, Director of the University of Montana Bureau of Business and Economic Research had some specific suggestions for the Governor and the other members of the task force.
"I think it's important to agree on what the problem is," said Dr. Barkey.  "My experience has been that there's not a lot of agreement on housing, of what the problem is. I also would like to end with a hope and a trust that there is room for innovation in government. And when you think that housing regulation and housing policy are largely crafted by local governments, the room for innovation there is amazing. So, we really owe it to ourselves to do a better job to be more creative and more effective in solving what is a problem that is plaguing us all."
Gianforte added these words: 'Just as I believe that government regulations should be a light touch, I also believe I should have a light touch with all of you on this committee. So, I am going to step away and let you all get to work.'
I Bought an Old House in Missoula: It's My First Time Renovating
As with any renovation project, we ran into a few mishaps when we began renovating the 1952 ranch-style home we bought in Missoula, but some of the changes we made were easy and immediately rewarding.
Most Expensive Airbnb in Western Montana
Entire villa available on Airbnb
Near Superior, Montana
WOW: This Missoula Mansion For Sale Was Once a Sorority House
This is the most expensive home on the market in Missoula, Montana as of January 2022.