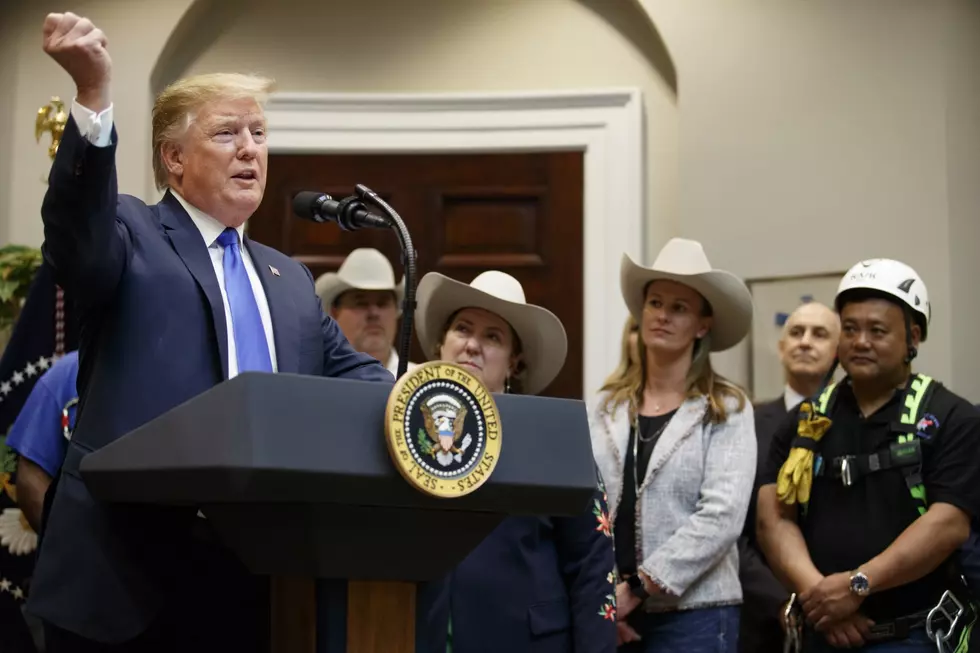 Trump, Tractors, and the Internet
(Photo by Tom Brenner/Getty Images)
I continue to be amazed at some of the attacks that are made against President Trump. One of the latest laughable attacks apparently came from a Vox.com reporter who said: "Beyond parody -- Fox Business cuts away from Trump's speech right after he laments, bizarrely, that tractors can't hook up to the internet."
Trump thinks tractors hook up to the Internet? Hahahahahah....oh wait. Actually, President Trump is right. And Joe Biden apparently doesn't even know what 5G is.
For those of you who recall, Montana recently hosted a visit by FCC Commissioner Brendan Carr.  He travelled the state talking about the importance of 5G and broadband access, especially when it comes to agriculture.
So I thought- maybe we should get his take on this. Check out the thread below:
ICYMI: Here's the full audio of FCC Commissioner Brendan Carr LIVE on Montana Talks Friday morning. https://youtu.be/FCRi5l6g56Y PRIOR POST
Coming up on Friday's Montana Talks- we're gonna cover everything from 5G technology to UAV's in agriculture, as we chat with FCC Commissioner Brendan Carr. Commissioner Carr started off the week in Missoula, Montana with Senator Steve Daines (R-MT) where they also got a chance to catch up with some of Montana's finest- our great smokejumpers in Missoula:
He also got his picture with the mermaids at the legendary Sip 'N Dip in Great Falls. I think it's safe to say his work here is done...(Great photo!)

Of course his work here is not done. After Great Falls, Carr will travel to Cody and Powell, Wyoming before wrapping up in Billings and Forsyth, Montana as he travels with Congressman Greg Gianforte (R-MT).
He'll join us on Friday's "Montana Talks" statewide radio show.
Catch "Montana Talks" with Aaron Flint statewide at 9 AM on the following stations:
Billings: Newstalk 95.5 and 95.1 FM, 970 AM KBUL
Bozeman: 1450 AM KMMS
Livingston: 1340 AM KPRK
Missoula: 930 AM KMPT
Kalispell: 880 AM and 107.9 FM KJJR
Glendive: 1400 AM KXGN and 103.1 FM
Forsyth: 1250 AM KIKC and 94.5 FM
Lewistown: 1230 AM KXLO and 106.9 FM
Wolf Point: 92.7 FM KVCK
Fort Peck: 107.1 FM KVCK Translator
Shelby: 1150 AM KSEN
Great Falls: 102.7 FM KINX
Helena: 95.9 FM KCAP
Butte: 1370 AM and 94.7 FM KXTL